| | | |
| --- | --- | --- |
| | QUALITY AND SAFETY | Location:Home - QUALITY AND SAFETY |

Seam Reinforcement Strips
Compare the way mattress seams are constructed and you will see that not all seams are the same. Justfun inflatables sells only products that utilizes 6 rolls of stitching on each mattress seam, incorporating a reinforcement strip that bridges the seam, thus eliminating the stress. Years down the road you will see the difference and you will appreciate why we insist on this quality.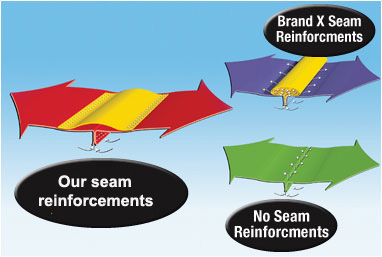 Second Blower Tube w/Trap Door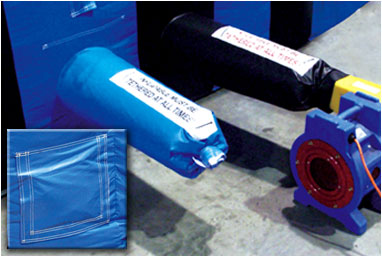 Not just fit & finish, Justfun Inflatables includes a second blower sleeve and hides that sleeve behind a trap door. Why? As blower systems get older they tend to lose the power they had when they were younger - sound familiar? Looking down the road you will find a need for the second inflation tube. It's the little things like this that demonstrate our commitment to make available only the products that have the operator & the patron's safety in mind.
Stronger Baffles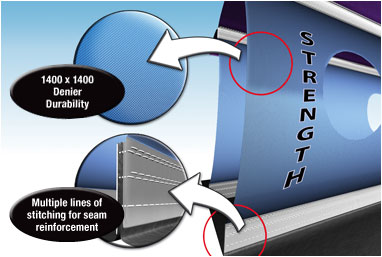 Baffles that are secured by a 1400x1400 denier material that provides the MAXIMUM strength of the internal baffling of every inflatables. This material upgrade is unmatched by anyone else in the industry. This material is key to the overall durability of the products we sell.
D Ring Exposé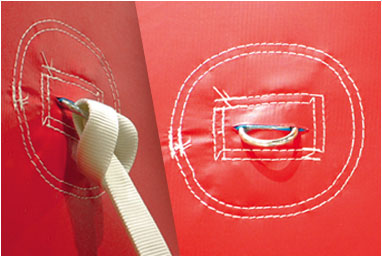 Take a close look at the construction of the "d" rings in the products we sell. A tether system is only as strong as its weakest link. Tether points on the inflatable are extremely durable. The "d" ring tethering System have been laboratory-tested and certified by Professional Engineers for use on all giant slides and all other types of inflatables.
Vinyl Exposé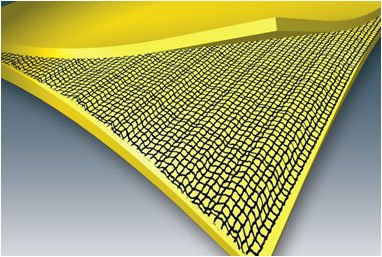 At Justfun Inflatables, the only products we sell are constructed from the finest coated vinyls. Unlike other vinyl producers, the Coated Vinyls are Lead-Free in addition to meeting SGS and ASTM, large & small-scale tests. Lead-Free vinyls are a standard that has been that way since day one. Exposure to lead is dangerous to children. The products we sell are safe from the effects of lead.
As for durability, the materials are a weft inserted substrate, which makes any possible rips virtually impossible.
No Wax Surfaces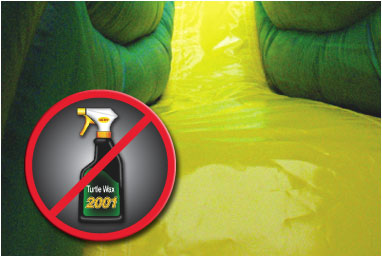 Inflatable vinyl is not naturally slippery, therefore, waxing has become a normal preparation for getting a slide ready for use. The removable sliding surface found the on the products we sell is a high polished urethane coating, which in turn reduces the need to wax. Don't have a no-wax surface? Call us and we will be happy to price out new slide lanes, regardless of who manufactured the slide.
Sun Shade Safety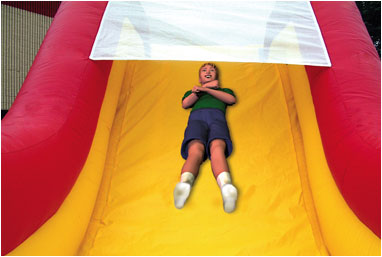 Yes, sun shades keep things cool in the hot summer but they also serve as a guard against mischievous children that want to flip down a slide. Every slide product that N-Flatables sells incorporates this safety measure.
Zipper with Flaps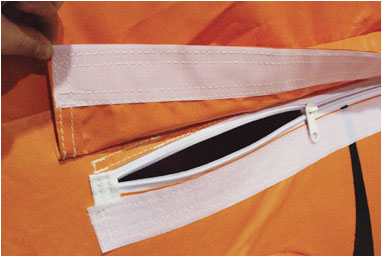 Unlike others, We sell products that are easy to use. For example, the deflation zipper utilizes a Velcro flap that covers the zipper, thus, less air is lost and zippers are not exposed to abrasion or mischief.
Blower Tube Strap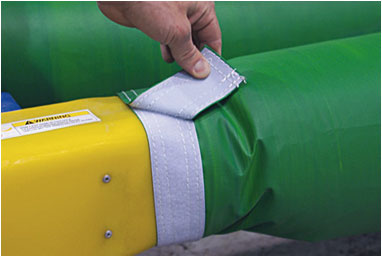 While most manufacturers tie their blower inflation tubes to the blower system, however, the products we sell, utilizes a universal sleeve with a cinching Velcro strap. One- handed operation keeps the tube securely attached to the blower system.
Liquid Laminator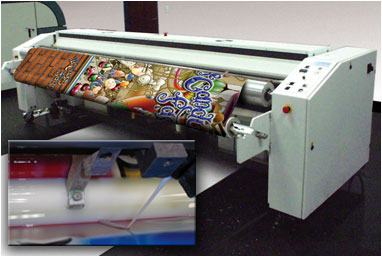 Digitally printed graphics are one thing, keeping those beautiful images durable as well scratch and fade resistant is quite another. Every digital image used within an inflatable sold by Justfun inflatables is clear-coated with a special liquid laminate that is vulcanized to the vinyl surface.
Finger-Safe Netting
Most bouncer manufacturers use 1" or 2" netting. A child bouncing can easily catch their fingers in that size of netting, thus serious injuries can happen. Only the Cutting Edge Creations brand employs netting that even a small child's finger cannot penetrate. Yet, the netting is still transparent enough to allow for easy viewing.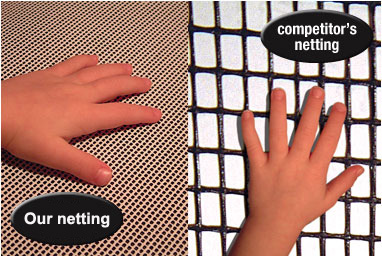 Removable Covers
Virtually every area that your customers step, slide or climb upon is on a replaceable & easily removable vinyl cover. From climbing stairs, to entrance tunnel sleeves to sliding surfaces, Justfun Inflatables only sells products that are designed for high-volume traffic.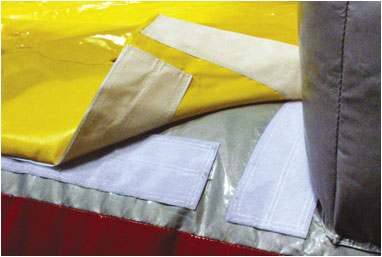 Safety Door on Bouncers
Worried about children possibly falling out of a bouncer? Don't be. Justfun Inflatables'technicians of products utilize a door-within-a-door safety system that requires your patrons to go around the second door to enter and exit.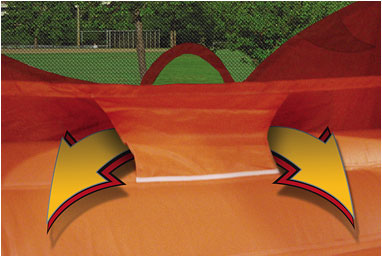 Safety Flap on Blower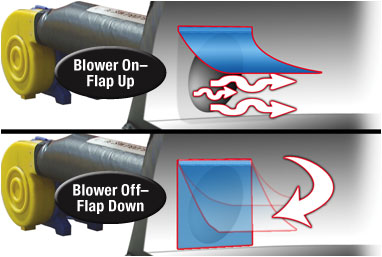 On the inside of every inflation tube lies a simple vinyl flap that is designed to flop closed if air flow is interrupted, thus slowing the loss of air.

Got Lead?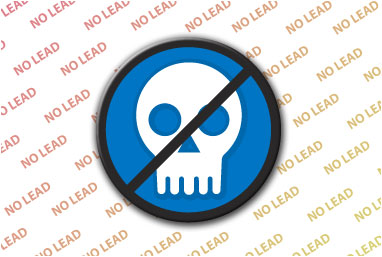 Lead has come under a great deal of scrutiny from the federal Consumer Product Safety Commission (CPSC) as a hazard in the home, most recently as a component in vinyl mini blinds as a low cost stabilizer. "Dust" forms as the vinyl in these blinds degrade, making it an ingestible hazard to young children who handle the blinds, then put their fingers in their mouths. Lead poisoning is a particular concern with children under age 7, as it is much more readily absorbed by their bodies. Vinyl material used for most inflatable amusement rides contain lead. This is a result of the manufacturing process of PVC. Vinyl materials used for children's inflatables such as bouncers, should be lead free. The CPSC has stepped in with their input as to the safe operation of inflatable rides in the past. Can lead content in inflatable rides be their next target?